OPHTHALMIC KNIVES01
Press
Shaping
The outside of the tape-like stainless steel material is smashed on the pressing machine. The smashed material is wound in a coil fashion again, and then moved to the next process.
OPHTHALMIC KNIVES02
Thermal process
Hardening
The stainless steel is never hard before thermal process. The structure of the material is changed and becomes hard by heating the material at about 1,000℃ after the pressing process and then rapidly cooling it. Then, by heating it at about 200℃, the toughness (elasticity) of the blade increases and the material becomes hard to break in addition to its hardness.
OPHTHALMIC KNIVES03
Blade edging (NC)
Blade edging
The blade edge is processed to fit the shape of ophthalmic knives with whetstone for making the blade thinner and multiple whetstones edging the blade tips, while moving the numerically controlled blade by a computer. This work requires fine processing that can't be controlled manually, so the blade is edged precisely using computer controls.
OPHTHALMIC KNIVES04
Polishing special blade
Whet
The blade edge is processed with special polishing technique to remove burrs (ragged edges formed during grinding) on the blade. The know-how that KAI has developed over the years is effectively used because this process determines sharpness of ophthalmic knives.
OPHTHALMIC KNIVES05
Assembling / Inspection / Packing
Inspecting / Assembling
The completed blades are inserted into the handle and fixed, and then the blade edges are inspected with a microscope one by one. The ophthalmic knives, which the inspection of blade edges is completed, are inserted into the case that protects the blade edges, and sealed within a sterilization bag. Finally, they are put in the shipping carton and moved to the sterilization process. This process is carried out in the clean room which is kept clean by controlling the number of the floating dust particles in the air.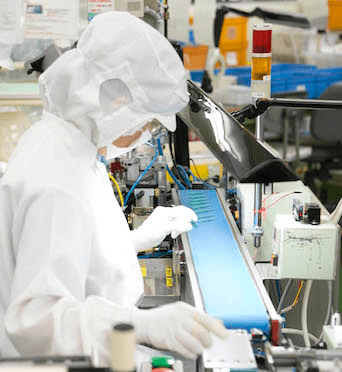 The workroom dedicated to the production of medical equipments, requiring high-level cleanness
The assemblage and the packaging of medical equipments, requiring high-level sanitation, are carried out in "clear rooms". The "clear room" is a special room with a low level of dirt and dust in the air. In KAI's factories are permanently installed clean rooms of cleanness class 100,000 of the international unified standard, and here are manufactured various kind of medical equipments.
OPHTHALMIC KNIVES06
Sterilization processing
Sterilizing
The packed ophthalmic knives in the carton are moved into the sterilizing machine. The machine sterilizes the ophthalmic knives by filling with ethylene oxide gas in the machine, which has strong sterilization capability. The ophthalmic knives are sterilized before the shipment from factories to be ready-to-use without sterilization in an operating room after opening the bag when using them for surgery in the hospital.
OPHTHALMIC KNIVES07
Completion