I am stopping by an Akasaka's confectionary shop, 'Shirotae' today. The rare cheesecake here is superb and I have been buying this cake for 40 years.
I am a big fan of sweets and when I was young I was frequently visiting popular cake shops with my wife, calling it 'sweets hunting'.
Actually, this is the place of our first date when I was a student. Well, I'll go get some cake for my wife as a souvenir.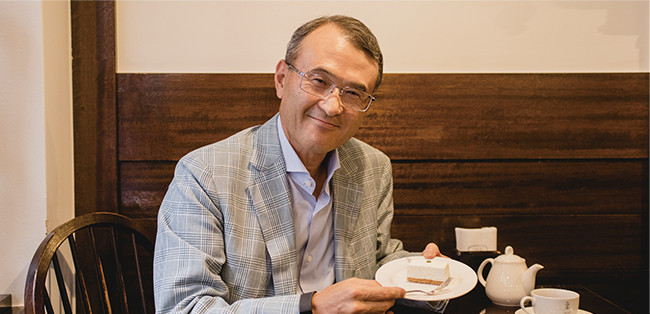 On the second floor of 'Shirotae' where a classical atmosphere drifts. The rare cheesecake is 260 yen per piece. It is a pioneering presence of confectionary shops in Japan, tailored to the taste of the Japanese, it was founded in 1976.
03-3586-9039
KAI Group PRESIDENT & CEO
KOJI ENDO
KAI group's 3rd president.
Born in Seki city, Gifu Prefecture in 1955.
Succeeded his father as president in 1989.
Hobbies include golf and reading.