CEO Message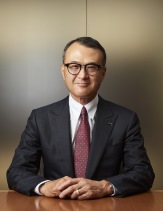 CEO & President Koji Endo

As of 2018, KAI Group has met our 110th anniversary. Since our foundation in 1908, with the patronage of many customers using our products, the Company is currently developing as many as 10,000 product items in Japan and various places around the world ranging from home goods such as kitchen products, confectionary items and beauty care products, to medical products and business-use blades.
Our origin is in the biggest city for blades with an 800 year history, Seki City located in Gifu Prefecture, where the company started as a small workshop producing folding knives. Outstanding craftsmanship and the spirit of traditional blacksmiths; producing tools that are closely related to, and rooted in daily living; innovative spirit while dealing with cutting edge factory equipment; improvement of production technology and aggressive effort for advancement. This is the essence of our company.
It is with this passion that we continue to individually craft each of our products, starting with our razors, kitchen knives, scissors and nail clippers.
The corporate philosophy of our company is, "To more people, better products."
This motto has been handed down from generation to generation; from the founder, my grandfather, to my father, to myself and to our products which are delivered to our customers.
Kai Industries is responsible for manufacturing products with high end quality and reliable technology, and Kai-jirushi brand is comprehensively responsible for the domestic sales of versatile products that give affluence to daily living. The Company is also delivering top quality products to a large number of customers through the expansion of our network in the regions of North America, Europe and Asia.
The tradition of 110 years is a token of trust that we receive from many customers.
KAI Group plans to continue to further deepen this trust and to produce better products and better services while keeping in mind the business position on continued learning.
We are taking a definite step towards building the next 100 years.
We are aiming towards a Kai-jirushi brand that is always new and fresh.