I suppose it's hard from an outside perspective to see how and where the boss is working these days.
I will show you around my office in the Oyana headquarters. This room had been used as the president's office since before I joined the company. There are many things that make you feel that history, such as items received from guests from various countries and the swords adorned with the crest of the Endo family. I spend my time in Oyana, Tokyo, and overseas, a third of the year in each place respectively. In Oyana there are factory-related jobs, Gifu industrial association jobs, et cetera. Many people visit here, yet I have some time to myself as well. I take some time to reflect and read the weekly reports. There are 80 weekly reports coming in daily from all my employees and I read all of them, trying to read the changes in their feelings. Since the business reports summarized by each departmental manager arrive and the article deadline for the monthly newsletter 'Kai Family' is the 10th of each month, I am busy at the beginning of each month. I do not like using a ghostwriter and every word I write down is my own.
I also look at KAI 's Facebook in this room, hitting many 'Likes' as well!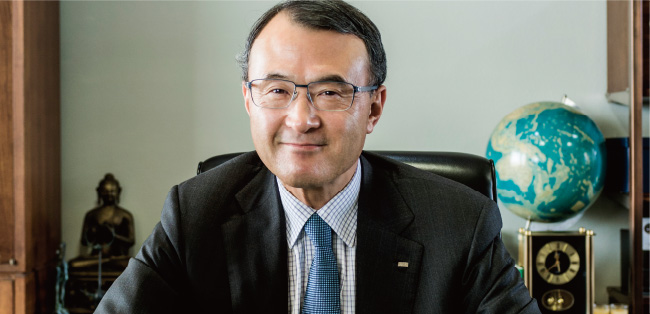 At the president's office on the 5th floor of KAI Industry's headquarters in Oyana, Seki City, Gifu Prefecture. President Endo always uses the stairs to go up and down between the five floors for his health. He works feeling the weight of history, with the portraits of Saijiro Endo I and II in the background.
KAI Group PRESIDENT & CEO
KOJI ENDO
KAI group's 3rd president.
Born in Seki city, Gifu Prefecture in 1955.
Succeeded his father as president in 1989.
Hobbies include golf and reading.